Seven Essential Table Manners for Small and Medium B2B Enterprises to Leverage Linkedin for Business Growth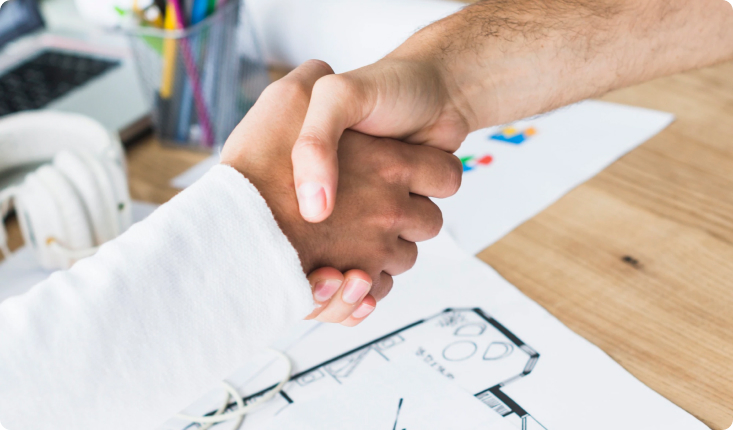 It's hard to overstate LinkedIn's potential for small and medium-size B2B businesses.
Ask any veteran sales rep who worked the sheets back in the day. It was literally manual labor.
One had to rummage through brick-thick directories for hours and rely on a massive dose of luck to get the facts right and pin down a worthy prospect.
Then came LinkedIn.
A digital platform where prospects willingly share critical details you need to know about them and their businesses and won't mind if you approach them with a business proposition.
It's the ultimate crystal ball for B2B businesses that many small and medium-sized enterprises don't fully appreciate and exploit.
Our clients often share their reluctance to engage actively with potential prospects on LinkedIn because the platform has a corporate vibe.
There is no denying that as a platform for LinkedIn is designed for professionals. But it has 830 million registered members.
But here is a PEW Research on social media users from 2021 about the platform that, I believe, makes a compelling case for small and medium enterprises to join LinkedIn.
50% of LinkedIn members have a bachelor's or advanced degree in the U.S.
While only 10% of people whose education doesn't surpass high school.
But for small and medium-sized enterprises, these two stats are critical.
LinkedIn is responsible for 80% of the B2B leads from social media.
44% of LinkedIn users take home more than $75,000 per year, which is above the national median in the U.S.
The best way to interpret this data from a B2B business standpoint is to consider LinkedIn as a space that offers the opportunity to build a condensed and targeted network across all industries.
Statistically, your LinkedIn friends have deeper pockets. They are here to engage in business and not share the classified details of what they ate for dinner last night! That's a huge leg-up right off the bat. Come to think of it.
Here are Seven Essentials Table Manners on how to conduct yourself on LinkedIn to jumpstart business growth.
The LinkedIn Mindset
So, what are you exactly doing on LinkedIn?
If you aim to harness growth for your business, you should think like an institution, not an individual.
There is no room for private opinions – apart from work-life-related details. Because when in business, you will come across people with all shades of opinions.
Because on LinkedIn, everything is business. So, you better not take sides and trigger people on your network needlessly. Even on your profile.
People often forget this rule.
It's critical to steer clear of hot-button political/social issues known to be divisive. If you feel too itchy about a polarizing issue, spare LinkedIn. Do that somewhere else.
Don't Assume the Role of a Preacher
Try to post something every day. But make it personal, human, helpful, and work-related.
There is no shortage of posts that attempts to sound authoritative and assume the role of a know-at-all preacher. That's a serious put-off.
It is not hard to distinguish between a well-meaning or thought-provoking nugget of wisdom and crass cliches that aim to lift your spirit every 30 minutes.
A failed attempt at sounding authoritative can be counter-productive.
In other words, don't post anything worth not posting. You don't have to hunt for fillers if you can't come up with something genuine and helpful.
It is always wise to stay silent than to say something that looks forced and sounds fake.
Make Your Profile About Your Customer, Not You
Your LinkedIn profile is essentially a space where you state your work's relevance to your customer's problem.
It should not be about who you are or what milestones you achieved in life.
The whole profile should be a testament to how you helped your customers but written in a way that sounds like your life's work. The tone is critical here.
It's hard to follow this key profile aspect on LinkedIn. Because we often mistake our tone when describing some feat or even a simple designation.
We make everything sound like personal achievement without stating how it created value for your customer.
Take, for example, the key on your profile – the headline.
Example: 'Senior Technical Recruitment Manager' can be more relevant if reworded like this: I help businesses hire reliable technical talent at a week's notice.
If you are a talent recruiter, you must have a database of relevant C.V.s. The duration mentioned would pique the interest of a business desperately looking for talent.
And most businesses are desperate when it comes to hiring tech talent. So, the minor rewording of the headline skyrockets your chances of getting work right off the bat.
Gather Relevant Testimonials
B2B business is all about referrals.
If you are good at what you do, you must get a good word about your work, which helps you get more work.
Your testimonials are the lifeblood of a B2B business profile. Try to gather as many as you can. Request your clients to put a good word about you and proudly display that on your profile.
The words can also be used as a reference point to discussions further in the network. So honest and genuine testimonials are great lead pullers. Make a habit of collecting as many as you can.
Strive to Become the No. 1 Source in the Industry
What exactly do you post on LinkedIn? If you are in the B2B space, your prospects would expect you to be ahead of your competitors in bringing in the relevant news to their business.
You can always share your anecdotes or inspirational mini-narratives that show how remarkably you help your customer. But more importantly, you should be ahead of the curve regarding new developments in your industry.
The best way to establish your leadership amongst competitors is to come up with news that will affect the businesses of your prospect. Put on a publisher's hat, keep an eye on individuals and institutions conducting research in your space, and try to become the first person to share and comment on such key trends.
Your page should be the go-to place for your prospects to know what's happening in the industry. It's not a well-researched thought leadership but the tiny bits you do every day develop trust and authority in the minds of your prospects.
In short, the best way to make your presence felt on LinkedIn is by becoming a pull force and not a pusher. Your profile should be the best place for your prospect to stay tuned with developments in your respective industry.
Cold Outreach Should be Measured
If your content smacks of selling anything, the prospect will run away. That's a fact.
So, how to keep it authentic? Well, it is simple to be authentic.
If you are approaching prospects with In-mails, take some time to know about them. Find some relevant nuggets of information that can break the ice and pique their interest for a genuine conversation.
If your outreach sounds like a pitch or an excuse for a pitch, you will have to be extremely lucky to hear back from them. So, the best action plan is to keep the conversation professional on the page and avoid In-mails unless you think the prospect needs you.
This may sound too altruistic for salespeople trying to earn their monthly buck.
But LinkedIn should be treated more as a space for industry-related news and views, not a selling hub.
An authentic presence can acquire the industry's thought leadership and transform your profile into a conveyor belt for warm leads. But that can only happen if you change your course from being a pusher to a mine of critical information that naturally pulls genuine buyers onto your page/profile.
Aim for a Long-Term Strategy for Results
Social selling on LinkedIn is not a quick fix to cover your remaining monthly sales target.
It's not a place to send In-mail shorts with the hope of generating a fractional response and thinking it's working. It's about being the go-to person in the industry.
It's about being consistent with the content that helps prospects make informed decisions. It's a steady and long-term bet that pays dividends in the shape of your prospect sending you an InMail for help.
When that happens, your LinkedIn presence turns into a growth machine.
Takeaway
On LinkedIn, your business and individual personality are one. Stay away from hot-button political issues that run the risk of triggering divisiveness.
Don't assume the role of a preacher. The line between sounding authoritative and preachy is a thin one. It's always better to skip a day than to post something that sounds borrowed and fake.
Make your profile about your customer and not you. Laying out accomplishments is great. But every word you write on your page and profile should be of value to your targeted audience. Nobody is interested in your career milestones unless it clearly shows how they bring value to your customer.
Cold outreach to expand your network should be measured. Every InMail should be personalized and aimed at increasing interaction and conversation on your page and profile. And that is only possible when you have a clear-cut audience in mind.
A referral is at the heart of B2B Business. Gather testimonials from clients. That's an excellent way to show you are good at your work. A customer's good word about your business is worth more than anything you can ever say about yourself.
Make your LinkedIn posts the top news source and analysis in your industry. Comment on the latest trends and stay ahead of others in bringing news about your industry that affects your audience.
Treat LinkedIn as a long-term brand platform. It's your opportunity to come out as an authoritative voice in your field and not score short-term sales. Sales will happen; give it time. Let the connection come to you for advice.